Warehouse safety regulations
Warehouse safety regulations: Are you familiar with the safety regulations that your warehouse must comply with? Often a lot of attention is paid in the warehouse to working quickly and efficiently, but as an employer, you do not have time to deal with these matters. That is why we can help you with this in part.
After all, legal requirements are set for safety, of which not everyone is always aware. That is why you can have your warehouse inspected by Wijkeurenstellingen.nl for an independent and expert inspection.
Warehouse safety regulations according to the Working Conditions Act
Employers are responsible for a safe working environment. This is included in the Working Conditions Act and applies to every employer.
For large warehouses or storage areas, you, as an employer, must ensure the use of safe warehouse racks, guaranteeing your employees' safety.
It is important to be aware that this responsibility lies with the employer and includes a maintenance and inspection obligation. These safety regulations fall under the Working Conditions Act.
Inspection of warehouse racks
The legal obligation to create a safe environment ensures that employers have their warehouses inspected yearly to prevent any problems. All warehouse racks are inspected according to specific safety regulations, and recommended repairs or maintenance are instructed. These inspections include: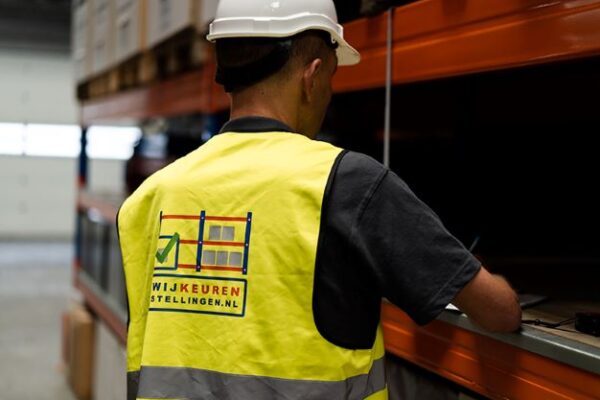 Expert advice on safety regulations
After the inspection, our inspectors draw up a concise report clearly stating the possible defects and whether maintenance or repair is needed to put everything in order.
Of course, you can also contact us for expert advice on, for example, the layout of your warehouse or possible protection of the racks, such as crash protection that can prevent damage or special rack protectors.
Feel free to contact us for more information about all safety regulations that must be met or make an appointment for an inspection with one of our experienced inspectors.
This way, we ensure that the warehouse safety regulations are met.
Request warehouse inspection
Do you want to have your warehouse inspected to guarantee safety and comply with all legally established standards? Then request the expert inspectors of Wijkeureneringen.nl for an extensive inspection.
Request an inspection directly or contact us for more information.
Request warehouse inspection
You can sign up by filling in the form. If you have any questions, you can always contact us.