Wilt u als werkgever de veiligheid op uw werkvloer garanderen? Dan moet u tijdig uw magazijnstellingen laten keuren om te voorkomen dat deze niet meer veilig genoeg zijn om te gebruiken. Met de keuring wordt schade, slijtage en verkeerd gebruik gecontroleerd en waar nodig gerapporteerd voor reparatie of ander onderhoud. Wijkeurenstellingen.nl helpt u aan een deskundige keuring van uw magazijnstellingen.
Bij installatie en periodiek
Inspection of storage racks is required by law. This indicates various times when you must have the racks inspected for a safe warehouse. For example, there is the zero measurement, or installation measurement, which must be carried out in a new-build warehouse.
Even during renovation, it is necessary to inspect everything adequately before the heavy racks are used. Finally, there is also a legally required periodic inspection, usually carried out yearly, and this number can be even higher with intensive use.

Wijkeurenstelingen.nl can be used for every inspection providing an independent inspector who looks objectively at the structure and installation.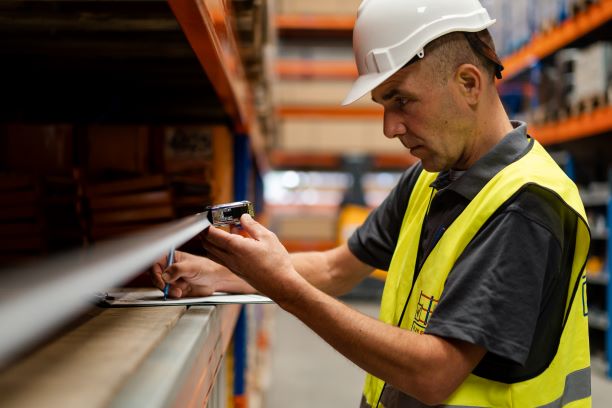 The mandatory periodic inspection falls under the Working Conditions Act to detect and repair damage in time, so your employees can work safely. This inspection applies to all metal storage systems that are mechanically loaded. A warehouse racking inspection is suitable for, among other things:
Pallet racks
Shelf racks
Cantilever racks
Drive-in racks
Mezzanine floors
You can have the various warehouse racks inspected, but also, when you use an entresol floor, we can review the construction so that it is safe for use.
Inspecting warehouse racks: The guarantees upon approval
During your warehouse inspection, everything is thoroughly checked at fixed points to what your racks must meet. If this has all been approved by our independent inspectors, you will receive a certification for use.
With the approval, you have a number of guarantees:
With Wijkeurenstellingen.nl, you also benefit from the expertise and independence of our inspectors. This way, you have a single point of contact who knows what needs to be reviewed, and you are assured of an inspection according to European standards.
Request warehouse racking approval
Would you like to request an inspection to guarantee the safety of your warehouse for your employees? Then make an appointment with one of our inspectors for a thorough inspection and ensure that your warehouse racks are in order.
For more information, don't hesitate to get in touch with us.
Request warehouse inspection
You can sign up by filling in the form. If you have any questions, you can always contact us.